A few months ago we decided it was time to redecorate our living room, we were fed up with the dark colours in there and really needed to brighten the place up.
We got straight on to Pinterest and got some ideas together, luckily we knew what we wanted and both agreed on pretty much everything.
The first thing we picked out was our sofa, which I'm absolutely in love with. I love everything about it, the colour, the shape, the fabric, it's perfect. We expected delivery of the sofa to be quite slow but they suprised us by wanting to arrange delivery much sooner than we'd expected. So we went full steam ahead with the painting and wallpapering.
Our living room used to have grey walls, black faux leather sofa (which was wrecked) and a huge pile of toys in the corner! We knew that we needed to brighten the room up as it doesn't get much light, so we opted for a light coloured paint and wallpaper. I adore the wallpaper, I love the colours and the geometric pattern, we've had so many compliments on it.
We also made the decision to remove all the toys from the living room and put them in the kids rooms instead. I was fed up of the mess and it is so much more peaceful and relaxing in here now. The kids are old enough to go and play in their rooms unsupervised now anyway, so it's not like they are missing out by not having toys in the living room.
After we'd got the painting and wallpapering done and the sofa had been delivered, everything else was done gradually. Picking up a mirror, new cushions, storage boxes, lamps etc as we went along.
Then a couple of weeks ago our TV unit and console table were delivered and finally our living room was complete! Well nearly…
The only things left to do now are to get a little side table for next to the sofa, gloss the skirting boards (a job I keep putting off) and to pot the cactuses properly in the terrarium.
Console table and TV unit from Littlewoods
Hexagon wall shelves from eBay
Lamp from B&M, Phone from Flamingo Gifts and vase from Asda
Terrarium from eBay  
Basket from B&M, stripe throw from IKEA, chevron throw from B&Q
Mirror from Maisons Du Monde
Copper shade from Dunelm 
Wallpaper from B&Q 
Shelves from Argos, storage boxes from IKEA and Maisons Du Monde 
Sofa from DFS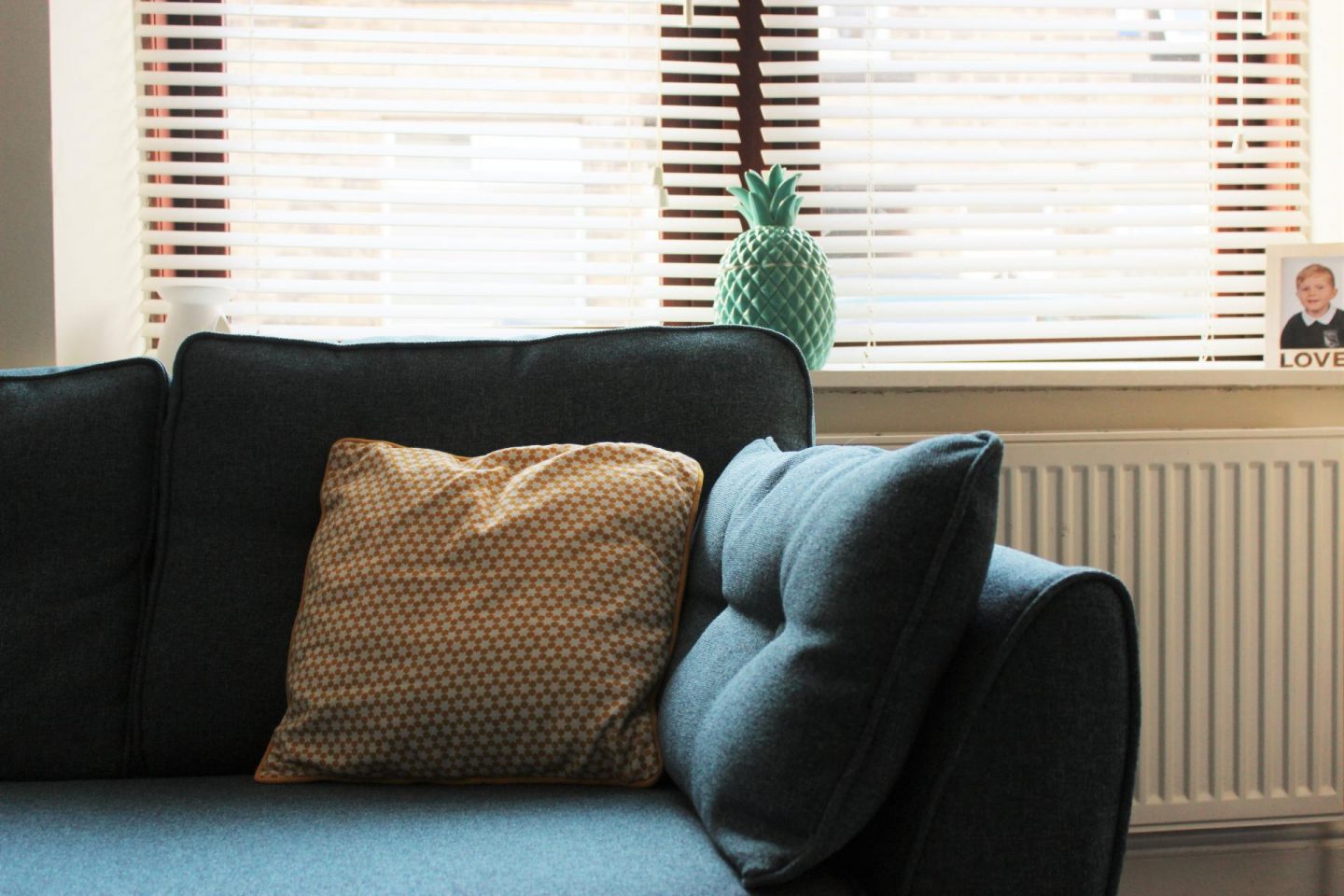 Cushion covers from Maisons Du Monde 
Pineapple pot from Fearne Cotton at Littlewoods 
Prints from Lily Rose Co and Etsy, frames from IKEA
Thanks for reading.
---